---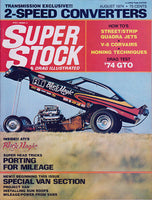 August 1974 Super Stock & Drag Illustrated Magazine
Magazines are complete and range from F to NM condition.
Grading is as follows:
NM – little to no cover wear or creasing with spine showing little to no use wear
EX+ - very subtle cover wear and very minor creasing with spine showing only subtle use wear.
EX -very subtle cover wear and creasing with spine showing very subtle wear
VG – some subtle cover wear and creasing with spine showing some minor use wear
Good – some noticeable cover wear and creasing with spine showing some average use wear.
Fair – noticeable cover wear and obvious creasing with spine showing above average use wear and possibly loose to the staples.
All magazines we sell include magazine pages in excellent, readable condition with most older magazines showing some level of yellowing mostly around the edges due to age.
This issue includes: A look at the new Pontiac Ventura; A look at ATI's two-speed torque converter; Head porting for mileage; How to swap a V-8 into a Corvair; Al Segrini's Black Magic Funny Car; Proper honing techniques; Color center spread photo of the Littlefield and Sublett Air Force-sponsored AA Funny Car; Super Stock Van Project gets going; Get better gas mileage and less emissions from your van; How to make a Quadra Jet into a first-rate street/strip performer; Petersen and Fitz dragster color photo; Coverage of AHRA's Northern Nationals and Grand American West events; How to put a sunroof in your van; plus more great vintage photos, features, and editorial.
A great issue of Super Stock and Drag Illustrated from great funny car years.