---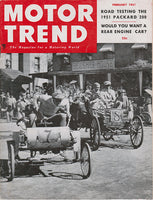 February 1951 Motor Trend Magazine
VG + Condition – Magazine is complete with some minor cover wear and creasing. The spine shows some use wear with a 1-inch tear on the bottom of the magazine. The pages are slightly yellowed mostly around the edges due to age.
This Issue includes: Where will the engine go? – Looking into the future of automobiles; Motor Trials – Packard 200; Dempsy Wilson's Chain-Drive Midget; Looking at the auto industry from 1910-1919; Superchargers Discussed; First Annual Motorama from the Shrine Convention Hall in Los Angeles; Spotlight on Detroit; Tendance Continentale;  plus more great Motor Trend magazine editorial.
Not in the best condition but an excellent vintage issue that will make a nice addition to your collection.