---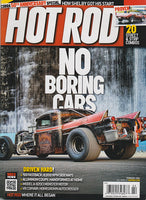 February 2012 Hot Rod Magazine
New Condition – Magazine is complete with minor cover wear and no noticeable creasing.
This Issue includes: Where it all began – The Unser Hot Rod Specials; Roddin' at Random – 2011 California Hot Rod Reunion; 5 Minutes with Jessi Combs; Mark Sax's custom-fabricated rat rod; Robert Killan's 2,000hp Model A; John and Cory Black's 1966 Corvair; Andrew Murray's custom coupe from Bonneville; Vaughn Gittin Jr.'s 1969 Mustang; 20 Diehards from the 2011 Drag Week; Carroll Shelby Profile; Comp Cams' LSXr Cam; JPC Racing 2011-2012 Mustang Bolt-on Speed Parts;  plus more great Hot Rod magazine editorial.
A great Hot Rod issue from the magazine that started it all.