---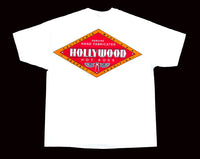 Hollywood Hot Rods Diamond White T-Shirt
Established in 2002 by Troy Ladd.  Hollywood Hot Rods is built on a team approach, each and every member of the team has specialized talents and abilities, which enables HHR to be a step above the competition. By using this team effort to design and fabrication Hollywood Hot Rods is able to accomplish and manage nearly any task in the custom build-up or auto restoration process.  
Hollywood Hot Rod T-Shirts are printed in the USA.
We ship fast - not Amazon fast - but pretty damn fast.