---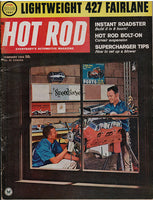 Hot Rod Magazine
February 1964
Magazines are complete and range from F to NM condition.
Grading is as follows:
NM – little to no cover wear or creasing with spine showing little to no use wear
EX+ - very subtle cover wear and very minor creasing with spine showing only subtle use wear.
EX -very subtle cover wear and creasing with spine showing very subtle wear
VG – some subtle cover wear and creasing with spine showing some minor use wear
Good – some noticeable cover wear and creasing with spine showing some average use wear.
Fair – noticeable cover wear and obvious creasing with spine showing above average use wear and possibly loose to the staples.
All magazines we sell include magazine pages in excellent, readable condition with most older magazines showing some level of yellowing mostly around the edges due to age.
This issue includes: 1964 Ford Thunderbolt Hot Rod Road Test; Salton City 500 Boat Race coverage; The Modified Circuit; "Pop" Marner's Chrysler-Powered 1931 Austin Drag Coupe; Bob McNuley's Oakland Roadster Show Winner; Merle Rhodes' 1956 Custom Ford pickup; Billy Stevens' 1930 Chevy coupe; Larry and Ray Bailey's four-cylinder dragster feature; Richard Blackman and Jim Albert's Flathead-Powered dragster; Cliff White's Deuce pickup; New safety features for dragsters; Stock Swaps = More Stuff - Part II; What you need to know before bolting on a supercharger; Instant Roadster; Preview of Craig Breedlove's Spirit II Dragster; plus more great features, editorial, and vintage photos.
A great vintage issue of Hot Rod magazine with some fantastic vintage articles