---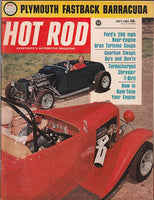 July 1964 Hot Rod Magazine
EX+ Condition – Magazine is complete with very minor cover wear and creasing. The spine shows very subtle use-wear and, the pages are in excellent condition and just a bit yellowed mostly around the edges from age.

This issue includes: Plymouth Barracuda Hot Rod Road Test; Ford GT Feature; Goodyear's New Drag Slick; Jim Nelson and Jimmy Nix's Blown Dodge Charger Drag Cars; Wenderski-Winkel Dragster; Hirata-Hobbs Dragster; Ewell, Stocker and Kamboor Dragster; Tip Angel and Mike Grimm's Kent Fuller Chassis Dragster; Bonneville Motorcycles on the Salt; Harley Davidson Skat Bike Test; Yankee 300 NASCAR Coverage; Verlin Lawson's deuce coupe; Hurst Floor Shift Special Indy Car; plus more excellent editorial, vintage photos, and features.
This is a great issue of Hot Rod magazine that will make a nice upgrade to most any collection.