---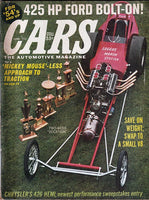 June 1964 Cars Magazine
EX- Condition - Magazine is in complete with some minor cover wear and creasing. The spine includes a 1.5-inch separation on the bottom shows mostly average use wear. The pages are excellent with a bit of yellowing mostly around the edges from age.
This issue includes: A look into Rally Racing; 425 bolt-on horsepower for 1954 and up Ford and Merc owners; Chrysler's latest 426 HEMI; Building the Cars Special – Part VI; Chysler's new 273ci engine for Darts and Valiants; Traction secrets – part one; Joe Wilhelm's home-built roadster feature; Performance-prepping the Jimmy blower; Joe Vittone's Corvair-powered custom Volkswagen pickup feature; The Concourse USA MK-I; Bill Killberg's 1940 Ford custom; Ron Logghe's Chevy fuel dragster feature; Paul Horning's M&V Automotive 1927 T pickup feature;' GR Mullin's 1923 T-bodied flathead roadster feature; Plus more vintage features, photos, and editorial.
This issue of Cars magazine will take you back in hot rodding time with great vintage articles and advertising.