---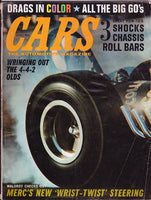 June 1965 Cars Magazine
Good Condition - Magazine is in complete with some noticeable cover wear and creasing. The spine shows some use wear, and the pages are a bit yellowed mostly around the edges from age.
This issue includes: How to build a rollbar the right way; Barton Craft's 1940 Ford; Olds 4-4-2 Cars Road Test; AHRA Big Go West 1965; Building the Cars Special – Part X; Bob Rakela's T-Roadster; How and Why – Gasser Chassis Engineering; NHRA Big Go West 1965; Spring Shocks for Stocks; Mercury's New Wrist-Twist Steering; Jim Varcalli's Corvette-powered Austin Healy; 150-mph Dragwagen – half car, half motorcycle; Back to Basics Part XIII – Chassis Tuning; Plus more vintage tech, features, and editorial.
This issue of Cars magazine will take you back in hot rodding time with great vintage articles and advertising.