---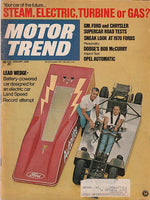 January 1969 Motor Trend Magazine
VG Condition – Magazine is complete with some minor cover wear and creasing. The spine shows some average use wear and the pages are just slightly yellowed mostly around the edges due to age.
This issue includes: Inside Detroit; Overseas Report; A look into alternative power to replace the internal combustion engine; Ford 1970 Preview; Opel M-T test; What makes Mr. Harrah run?; Racing from Irish Hills; Paris car show; Donny Eames' wedge electric-motor-powered wedge dragster; The end of the swing axle; Analyzing Supercars – Plymouth GTX400, Charger RT 400, Ford Cobra 428 CJ, Pontiac GTO, Chevelle 396, Buick GS 400; The Can-Am Today; 1968 Racing Round- up; plus more great Motor Trend magazine editorial.
An excellent issue with great vintage car-guy stuff.