---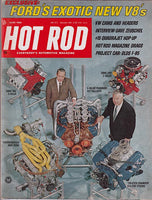 June 1968 Hot Rod Magazine
Magazines are complete and range from Good to NM condition.
Grading is as follows:
NM – little to no cover wear or creasing with spine showing little to no use wear
EX+ - very subtle cover wear and very minor creasing with spine showing only subtle use wear.
EX -very subtle cover wear and creasing with spine showing very subtle wear
VG – some subtle cover wear and creasing with spine showing some minor use wear
Good – some noticeale cover wear and creasing with spine showing some average use wear.
Fair – noticeable cover wear and obvious creasing with spine showing above average use wear and possibly loos to the staples.
All magazines we sell include magazine pages in excellent, readable condition with most older magazines showing some level of yellowing mostly around the edges due to age.
This issue includes: A Special Look at Ford Engineering; 1968 SS 396 El Camino Hot Rod Road Test; Coverage of the 5th Annual Hot Rod Magazine Drags From Riverside; VW Dyno Test: Bolt-On Power; Rislone Rocket X-1 Powered Dragster feature; Dick Loher's Mustang Funny Car burnout photo; Wheel Hop Cure; Low-Budget Screamer Part 1; Coverage of the 1968 March Meet From Bakersfield; Jimmy Nix Color Dragster Action Photo; Oakland Roadster Show Coverage; Tom Jablonski's 1965 Volkswagen feature; Jim Ewing's 1923 'T' Rod –Pickup feature; Roger Lindamood's "Color Me Gone" 1968 Dodge Charger Funny Car feature; Ken Silvestri's 1937 BB/Gasser; Dave ZeuschelProfile; AMA Racing from Long Beach's Memorial Stadium; plus more great editorial, tech articles, and car features.
A great issue for the Hot Rod magazine enthusiast.