---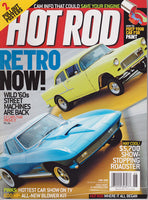 June 2006 Hot Rod Magazine
Magazine is complete with some minor cover wear including a crease running along the bottom that has no affect on the magazine's pages or quality. The spine shows very subtle use wear.
This Issue includes: Bench Racing; Where it all began – Chaffey College students changing an engine at Bonneville Roddin' at Random; Gasser Fever – 13 Gasser-Style hot rods from days gone by; Richard Riddell's budget-built hot rod; George Antoline's 1934 Ford Coupe; Ak Miller profile; A look at the hot rod show Pinks; Ben Moore's 9-second 1994 Z28 Camaro; Behind the Scenes at GM Performance; How to Strip Paint; Roots blower on a Gen III small-block; Why Flat-Tappet cams go bad; Plus more great Hot Rod magazine editorial.
An excellent Hot Rod issue from the magazine that started it all.