---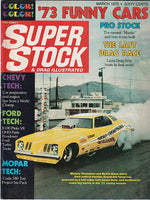 March 1973 Super Stock & Drag Illustrated Magazine
EX Condition – Magazine is complete with some minor cover-wear and creasing. The spine only subtle use-wear, and the magazine pages are in exceptional condition with some very minor yellowing mostly around the edges due to age.
This issue includes: Lions Last Drag Race coverage; Plymouth 'Cuda 340 Test and feature; Pinto 289 V-8 Swap; Don Carlton's Mopar Missile Pro Stock feature; Mickey Thompson's Revelleader Grand –Am Funny Car feature; Stone Woods & Cooke Swindler IV Mustang Funny Car feature; Dave Bowman's California Stud Rear-Engine Vega Funny Car Color Photo and feature; Dennis Fowler's Rat Trap Plymouth Satellite Funny Car feature and Center Spread Photo; Kelly Brown and Glenn Way's Wonder Wagon Funny Car feature; Fenton Charger Funny Car feature; plus more vintage photos, witty editorial, and features.
This is a jammed-packed issue full of 70's Funny Cars that will make a nice addition to your collection.