---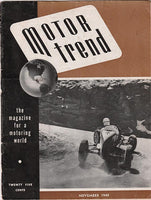 November 1949 Motor Trend Magazine
VG - Condition – Magazine is complete with some understandable cover wear and minor creasing. The spine shows a good amount of wear and is has a 5-inch separation from the top down, yet the cover is still attached. The pages are in great shape and slightly yellowed mostly around the edges due to age and the center spread is loose but still present.
This issue includes: Pikes Peak Hill Climb; Custom Bodies; Watkins Glen Grand Prix; Western Sports Car Events – Goleta Meet and Hill Climb at Sunland; 1949 Cadillac Car of the Year; Restyling the 1941 Pontiac; Trends in Design – Postwar Automobiles; Motoring Show Case; Spotlight on Detroit; plus more great vintage Motor Trend magazine editorial.
Not in the best condition but an excellent very early issue that will make a nice addition to your collection.