---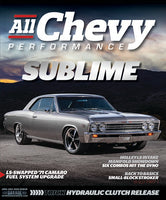 April 2023 All Chevy Performance Magazine
All Chevy Performance – a magazine geared towards the high-performance Chevy enthusiast.
This issue includes: Tavis Highlander's Chevy Concepts – 1955 Chevy Sedan Delivery; Bo Juniel's 1967 Chevelle feature; Holley LS intake comparo test; Mike Fisher's 1967 Camaro feature; Malwood USA hydraulic clutch release; Dave Timm's 1968 Nova feature; Small-block stroker build; John Koch's 1965 Chevy Chevelle feature; Updating a second-gen Camaro's fuel system for LS power; Mike Pugliese's 1962 Chevy Biscayne feature; 1957 Chevy suspension and brake upgrade; plus more great editorial from All Chevy Performance magazine.
This is a fantastic magazine for the Chevy muscle car enthusiasts who still like to read old-school print.