---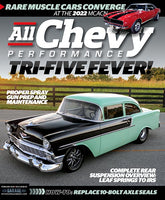 February 2023 All Chevy Performance Magazine
All Chevy Performance – a magazine geared towards the high-performance Chevy enthusiast.
This issue includes: Tavis Highlander's Chevy Concepts – 1955 Bel Air; Jason Stills' 1956 Chevy 150 feature; FiTech's Ultimate LS Kit hits the dyno; Garry Gallo's 1955 Chevy gasser feature; Replacing axle seals on a 10-bolt rearend; Brad Mrstik's 1957 Chevy restomod; A simple overview of rear suspension designs; Paul Coppola's 2002 Z28 Camaro feature; How to get great paint results from budget spray guns; Sam Smith's 1963 Corvette Sting Ray feature; 2022 Muscle Car and Corvette Nationals coverage; plus more great editorial from All Chevy Performance magazine.
This is a fantastic magazine for the Chevy muscle car enthusiasts who still like to read old-school print.