---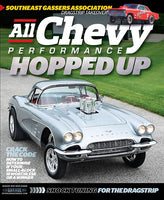 January 2023 All Chevy Performance Magazine
All Chevy Performance – a magazine geared towards the high-performance Chevy enthusiast.
This issue includes: Tavis Highlander's Chevy Concepts – 1969 Yenko Tribute Camaro; Dany Jones Gasser Style 1961 Corvette feature; Tips on how to determine if your small-block engine is trash or treasure; Miranda Built 1969 Camaro feature; Install a SFI Burst Panel; Edward Zuchowski's 1966 Chevy II Nova feature; Dragstrip Shock Tuning Tips; John Gilbert and Brian Shaw's 1966 Chevy Malibu feature; Vernon Ward's 1971 Z28 Camaro feature; Southeast Gasser Association Drags from Knoxville Raceway; plus more great editorial from All Chevy Performance magazine.
This is a fantastic magazine for the Chevy muscle car enthusiasts who still like to read old-school print.