---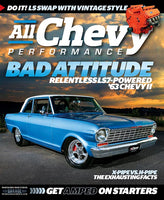 March 2023 All Chevy Performance Magazine
All Chevy Performance – a magazine geared towards the high-performance Chevy enthusiast.
This issue includes: Tavis Highlander's Chevy Concepts – 1980's G-Body Monte Carlo; Jim Dissinger's 1963 Chevy II feature; Second-Gen Camaro LS Swap with a Big-Block Look; Dave Richardson's 1966 Chevelle feature; X vs. H Pipe exhaust facts; Richard Miller's 1968 Camaro feature; Choosing the right starter for your ride; Raymond Masi's Straight-Axle 1963 Chevy II feature; C5-C6 Corvette suspension upgrade; Jeff Harnish's Day Two restored 1967 Camaro feature; Project Preview – 2006 Monte Carlo RWD conversion; plus more great editorial from All Chevy Performance magazine.
This is a fantastic magazine for the Chevy muscle car enthusiasts who still like to read old-school print.