---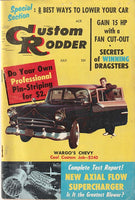 July 1957 Custom Rodder magazine
EX+ Condition: Magazine is complete with very minor cover wear and creasing. The spine shows only subtle use wear and the magazine pages are in excellent condition and just slightly yellowed mostly around the edges from age.
This issue includes: The eight best ways to lower your car; Mike Wargo's 1955 Chevy feature; How to Pinstripe for $2; Two steps to souping up your Olds Rocket V-8; Richard Mangus' Olds Rocket-powered 1932 roadster; Test report on the new Latham axial flow supercharger; Coverage of the Seventh Annual National Autorama; Secrets of the winning dragsters; The easy route to Bull-nose Beauty; Fifteen free horsepower; Bob Grant's  1950 custom four-door Ford feature; Sid MacDonald's custom Chrysler pickup; plus more great vintage photos, editorial, and features.
A great issue to that will make a nice addition to your vintage Custom Rodder magazine collection.