---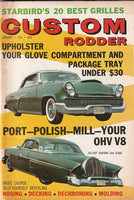 January 1961 Custom Rodder Magazine
Ex+ Condition: Magazine is complete with some very minor cover wear and creasing. The spine shows very subtle use wear and the pages are in great shape with some yellowing mostly around the edges due to age.
This issue includes: Top Midwest Car Clubs; Darryl Starbird picks the 20 Best Grilles; Bob Mayfield's 1959 Chevy Impala feature; How to Pad Your Glovebox; Candy Stripe Your Package Tray; John D. Howard's 1951 Merc feature; Port, Polish and Mill your heads; Reg Little's 1959 T-Bird convertible feature; Customizing Basics – Nosing Decking, Dechroming and Molding; plus more great tech, editorial, and features.
A great issue of Custom Rodder that will make a nice upgrade to your collection.