---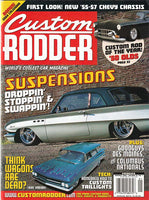 January 2004 Custom Rodder Magazine
EX+ Condition: Magazine is complete with very minor cover wear and creasing. The spine shows very subtle use wear and the pages are in excellent condition.
This issue includes: Ted and Sue Richardson's 1962 Buick Special feature; Goodguys Des Moines coverage; How to create custom taillights; John Pazik's 1950 Olds feature; Roadster Shop Tri-Five chassis install; Goodguys Columbus coverage; 2004 Calendar insert; Russ Peterson's 1959 Chevy Impala wagon feature; Shop Tour with ididit; Air Ride Shockwave install; Mike Stowe's 1957 Olds Super 88 Fiesta wagon feature; Rebuilding and updating a 1957 Mercury front end; Dale and Stacy John's 1959 Chevy wagon feature; Stylines with Michael Leonard; plus more great Custom Rodder editorial, and features.
A great issue of Custom Rodder that will make a nice addition to your magazine collection.