---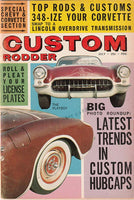 July 1961 Custom Rodder Magazine
Magazines are complete and range from F to NM condition.
Grading is as follows:
NM – little to no cover wear or creasing with spine showing little to no use wear
EX+ - very subtle cover wear and very minor creasing with spine showing only subtle use wear.
EX -very subtle cover wear and creasing with spine showing very subtle wear
VG – some subtle cover wear and creasing with spine showing some minor use wear
Good – some noticeable cover wear and creasing with spine showing some average use wear.
Fair – noticeable cover wear and obvious creasing with spine showing above average use wear and possibly loose to the staples.
All magazines we sell include magazine pages in excellent, readable condition with most older magazines showing some level of yellowing mostly around the edges due to age.
This issue includes: Pete Spoto's 1957 Corvette; Glen Plocher and Ed Gansmann's Bantam A/Altered; Bob Jacobs' 1959 Corvette; Don Aguirre's 1956 Corvette; Roger Ryan's 1957 Chevy; How to stuff a 348ci mill into a Corvette; Dick Knell's 1957 Chevy; Dennis Ek's 1958 Chevy Impala; Hank Bornstein's 1959 Corvette; Lincoln overdrive for your Chevy; The latest trends in custom hubcaps; License plate dress-up; Don Sporleder's custom Plymouth Fury; Fillman Roberts' 1940 Ford; Don Munz's 1949 Ford; plus more great vintage photos, editorial, and features.
A great issue of Custom Rodder that will make a nice upgrade to your collection.