---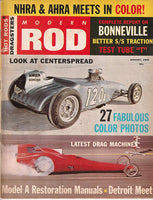 January 1965 Modern Rod Magazine
EX+ Condition: Magazine is complete with very minor cover wear and creasing. The spine shows some subtle use wear, and the pages are super white with some slight yellowing mostly around the edges from age.
This issue includes: Correct tire pressure for drag racing; Howard and David Pick's T Roadster feature; Ed Iskenderian profile; SCTA 16th Annual Bonneville Nationals; Test Tube T First report; NHRA's Indy Nationals; Wally Parks profile; Ford restorations; World Drag Championships from Detroit; Gordon Collett profile; plus more great vintage editorial, tech, and features.
This is great issue will make a nice upgrade to most any collection.