---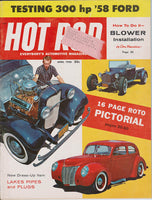 April 1958 Hot Rod Magazine
EX+ Condition - Magazine is complete with very minor cover wear and creasing. The spine shows very subtle use wear and the pages are super white especially for their age.
This Issue Includes: Glass Slipper and Hot Rod Magazine Special Standing Kilometer Record for Rodders; The Long and Short of Lakes Pipes; 1958 Ford Road Test and Analysis; Potvin's direct-drive adaptor for GMC blowers; Ardun/Ford Bantam; The Scorpion Dragster feature; Bob Marchese's Deuce Coupe feature; John Kingston's 1933 Buick-powered Ford pickup feature; John Lane's 1924 T Roadster Pickup feature; Dave Cunningham's 1940 Custom Ford feature; Neal East's 1932 five-window coupe feature; plus more vintage photos, features, and editorial.

Just a fantastic Hot Rod magazine issue in great condition that will make a nice addition to your collection.