---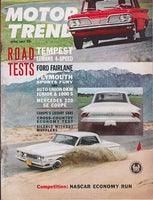 April 1962 Motor Trend Magazine
VG Condition – Magazine is complete with a bit of wear and creasing. The spine shows some noticeable use wear and the pages are slightly yellowed mostly around the edges due to age along with some moisture issue on the spine of the cover and in the middle of some pages, but is still very readable.
This Issue includes: 1962 Pontiac Tempest Le Mans Road Test; 1962 Ford Fairlane 500 Road Test; Pure Oil – NASCAR Trials; Europe Luxury Car Road Test – Mercedes Benz 300, Rolls Royce, Facel Vega Excellence; Plymouth Sport Fury Road Test; Motor Trend's Economy Run; A look at Classic Car yards; A pair of DKW's Road Test; Mercedes 220 SE Coupe Driver's Report; plus more great Motor Trend magazine editorial.
An excellent issue that will make a nice addition to your collection even in challenging condition.