---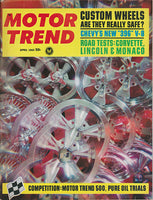 April 1965 Motor Trend Magazine
EX Condition – Magazine is complete with some very minor cover wear and creasing. The spine shows subtle use wear and the pages are just slightly yellowed mostly around the edges due to age.
This Issue includes: Custom Wheels – are they really safe?;1965 Lincoln Continental Road Test; Motor Trend 500 Stock Car Race from Riverside Raceway; Spark Plug Care; 1965 Corvette Sting Ray Road Test; Review of Chevrolet's new 396ci Engine; Show Stoppers – Factory Customs; The Rise and Fall of WM. C. Durant; Dodge Monaco Road Test; The Pure Oil Performance Trials; Summers Brothers' LSR four-engine Streamliner;  plus more great Motor Trend magazine editorial.
An excellent issue that will make a nice addition to your collection.