---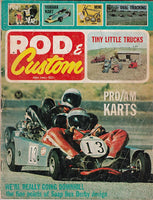 April 1966 Rod & Custom Magazine
Good Condition - Magazine is complete with some noticeable cover-wear and minor creasing. The spine shows some mostly subtle use-wear including a small separation at the very bottom. The magazine pages are in excellent condition with some slight yellowing mostly around the edges due to age.
This issue includes: Soap Box Derby Designs; Stock Cars from the Motor Trend 500; How to get good-fitting doors; A look at the Batmobile; A description of the various oval track race cars; High-Performance Clutches – Part 2; Racing from El Mirage; Valve Spring hop up for Hondas; Bolt together mini-bike; Yamaha 250 Powered Kart; Quick refueler for fast pit stops; Karting from Kartwheelers Raceway; Duffy Livingstone's I class streamliner; The future of model kits; Model Trucks; Coverage of the Robert E. Petersen Motorama; Ferrari Dino model car; plus more great model cars, vintage photos, car features, and editorial.
A great vintage issue of Rod & Custom magazine.