---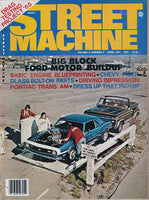 April 1977 Street Machine Magazine
EX Condition – Magazine is complete with some very minor cover wear and creasing. The spine shows very subtle use-wear, and the magazine pages are in excellent condition and slightly yellowed mostly around the edges due to age.
This issue includes: Budget Engine Building Kits; Home-weld engine stand – how to; A look at universal fuel pumps; Steering wheel guide; John Gillespie's 1955 Chevy feature; Darry Starbird-built custom 1972 corvette; Jimmy Duffy's Mini-Cooper feature; Joe Murphy's 1967 Ford Mustang feature; Mike and Pete Consolo's 1967 Nova feature; Ron Onufryk's 1956 Chevy Nomad feature; Mike Mello's 1964 Chevy Impala lowrider; Behind the scenes at a machine shop; Pat Stafford's 1956 Ford Customline and 1963 Falcon; Valve Cover Locks; what and why; The Flamers cartoon; Pontiac Phoenix driver impression; 1977 Oldsmobile Delta 88 Royale Coupe driver impression; 1977 Pontiac Lemans Can Am driver impression; plus more great editorial, features, and vintage photos.
A fantastic vintage issue of Street Machine magazine that will make a nice addition to your vintage automotive magazine collection.