---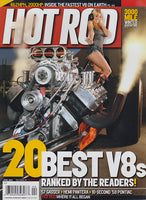 April 2012 Hot Rod Magazine
New Condition – Magazine is complete with minor cover wear and no noticeable creasing.
This Issue includes: Where it all began ; Roddin' at Random; Rick Duffin's 1957 Chevy Gasser Tribute; 526ci Hemi Pantera; Brent McCoy's 1968 Buick Skylark Drag Week Drag Car; Ken Duttweiler's 2,000-plus hp small-block; 20 Best V-8s of All Time; The Truth Behind the Last American Motors Dealership; The disappointing road trip with the Raunchero; The Hottest Ford Stroker; plus more great Hot Rod magazine editorial.
A great Hot Rod issue from the magazine that started it all.