---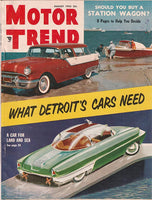 August 1955 Motor Trend Magazine
EX+ Condition – Magazine is complete with some very minor cover wear and creasing. The spine shows some subtle use wear and the pages are in great shape and slightly yellowed mostly around the edges due to age.
This issue includes: What Detroit's Cars Need; Auto Racing News; 1955 Chevy Research and Road Test; The latest in differentials; Whatever Happened to…? The many ingenious devices; 1955 Indy 500 Report; The latest station wagons; Driving around with Walt Woron; plus more great Motor Trend magazine editorial.
An excellent vintage issue that will make a nice addition to your collection.