---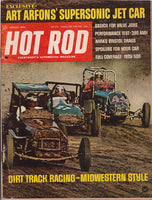 August 1968 Hot Rod Magazine
Magazines are complete and range from F to NM condition.
Grading is as follows:
NM – little to no cover wear or creasing with spine showing little to no use wear
EX+ - very subtle cover wear and very minor creasing with spine showing only subtle use wear.
EX -very subtle cover wear and creasing with spine showing very subtle wear
VG – some subtle cover wear and creasing with spine showing some minor use wear
Good – some noticeable cover wear and creasing with spine showing some average use wear.
Fair – noticeable cover wear and obvious creasing with spine showing above average use wear and possibly loos to the staples.
All magazines we sell include magazine pages in excellent, readable condition with most older magazines showing some level of yellowing mostly around the edges due to age.
This issue includes: Dirt Trackin' Midwestern Style; AMX Hot Rod Road Test; 1968 Indy 500 coverage; Low-Budget Screamer Part 2; The Chi-Town Hustler 'Cuda Funny Car feature; AHRA Spring Nationals coverage from Bristol; Paddy Wagon Wheelstander color photo; Tom Booth's T Pickup feature; Fred Goeske and Rapin Ronnie Runyon color photo; Joe Leonard in the STP Oil Special color center spread photo; Marv Eldridge's 1967 Corvette; Walker & Kent Tortoise Gasser feature; Art Afrons' "Green Monster" jet-propelled land speed record car; Auto Shop Series – Seating Valves; Poor Man's Porsche Wrap Up; Meril Smith's 1928 Ford wagon feature; Bushwhacker 175 motorcycle test and feature; Bolt-on rear spoilers for street machines; Johnny Capel's Super Modified feature; plus more great editorial, tech articles, and features.
A fantastic issue of Hot Rod magazine in its heyday.