---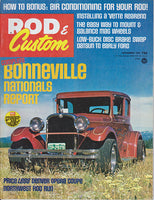 November 1972 Rod & Custom
EX- Condition - Magazine is complete with some subtle cover-wear and creasing. The spine shows some very minor use-wear and the magazine pages are super white especially for their age.
This Issue Includes: Bonneville 1972; Oldtimers N.W. Rod Run; Darrell Watkins' 1947 Plymouth Convertible; Greg and Cindi Thorsen's 1940 Ford coupe; Jim Green's 1928 Ford Tudor; How to widen your rims; Installing a Crovette rearend on your hot rod; Howard Price's 1927 Dodge five-window coupe; Chuck Goldshot's 1933 Ford pickup; Pat and Bob Smith's T-bucket; Cooling the cockpit of your hot rod; Jeff Smith's 1939 Olds coupe; Sam Teel's 1928 Ford Sport Coupe; Suspension fundamentals – Roll center, Swing Axles, and Ackerman; Kent Crouch's 1941 Merc business coupe; Datsun disc brakes for your early Ford; plus more excellent tech articles, features, and editorial.
A fantastic vintage issue that will make a nice addition to your Rod & Custom magazine collection.