---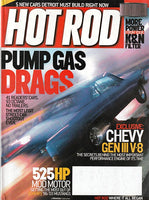 August 2004 Hot Rod Magazine
EX Condition – Magazine is complete with some very minor cover wear and creasing. The spine shows very subtle use wear and the pages are like new.
This issue includes: Bench Racing; Roddin' at Random; 2004 Pump Gas Drags – Full Coverage; Five cars Detroit must build now; Super Truck Shootout – Viper-Powered Dodge SRT-10 vs Ford Lightning; Year One 1965 Ford Mustang feature; Secrets of the Gen-III V-8; Tune Your Air Filter; Get 525 reliable hp from your 4.6L SOHV; Plus more great Hot Rod magazine editorial.
An excellent Hot Rod issue from the magazine that started it all.