---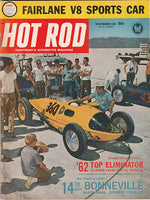 December 1962 Hot Rod Magazine
Magazines are complete and range from F to NM condition.
Grading is as follows:
NM – little to no cover wear or creasing with spine showing little to no use wear
EX+ - very subtle cover wear and very minor creasing with spine showing only subtle use wear.
EX -very subtle cover wear and creasing with spine showing very subtle wear
VG – some subtle cover wear and creasing with spine showing some minor use wear
Good – some noticeable cover wear and creasing with spine showing some average use wear.
Fair – noticeable cover wear and obvious creasing with spine showing above average use wear and possibly loos to the staples.
All magazines we sell include magazine pages in excellent, readable condition with most older magazines showing some level of yellowing mostly around the edges due to age.
This issue includes: First look at Carrol Shelby's V-8-powered Cobra; Greer-Black A/Fuel dragster feature; Coverage of the National Champion Custom Car Show from Indianapolis; Coverage of the fourteenth annual Bonneville Tim Trials; Bruce Robb's T Roadster feature; Frank Mecchi's custom 1956 Chevy feature; Lou Mortellaro's 1960 Impala custom feature; Lonnie Spangler's 1933 Ford Coupe feature; Jack Chrisman's Top Eliminator Pontiac-powered dragster feature; Jerry Grout's 1957 Ford Ranchero feature; Jerry Volavka's 1931 Model A; NHRA Divisional drags from Pomona; NHRA Divisionals from Denver; NHRA Divisionals from Alton, Illinois; I.K.F. Grand National Kart Championships; Counts of Cobblestones car club from Rapid City, South Dakota; plus more great features, editorial, and tech articles.
Another Hot Rod magazine at its best.