---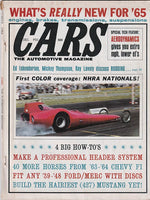 December 1964 Cars Magazine
Good + Condition - Magazine is in complete with some minor cover wear and creasing. The spine shows some average use wear, and the pages are excellent with a bit yellowing mostly around the edges from age.
This issue includes: Back to Basics, Part X Aerodynamics part one; How to build exhaust headers; The New Cord; Harold Childers' Franklin powered dragster feature; Les Barath's Simca-Aronde gasser feature; New engines for '65; James Lee's Olds-powered dragster feature; 40 more horses from '63 –'64 Chevy injection; 10th Annual NHRA Championships from Indy; New York State's Volunteer Fire Department's HEMI-powered fire engine; Disc Brakes for any '39 – '48 Ford or Merc; Interview with Ed Iskenderian, Mickey Thompson, and Ray Lavely; Ron Pellegrini's A/FX wild Mustang; Plus more vintage tech, features, and editorial.
This issue of Cars magazine will take you back in hot rodding time with great vintage articles and advertising.