---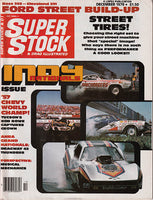 December 1978 Super Stock & Drag Illustrated
EX+ Condition – Magazine is complete with very minor cover wear and creasing. The spine shows mostly subtle use wear but includes a 1-inch tear at the top, but has little affect on the magazine's quality. The magazine pages are super white for their age.
This issue includes: A good look at the Ford 351 Cleveland; The positive of sleeving your block; Bill Coon's better Ford crank; AHRA's Grand Nationals coverage; Over 18 Pages of the 24th Annual Indy Nationals; Don Garlits - King of the Dragsters – part Nine; Bob Bowe's 1957 Chevy Nomad; Charlie Malyuke's D/Gas Plymouth Arrow; plus more great features, tech, and editorial
A great issue that will make fantastic addition to your Super Stock magazine collection.