---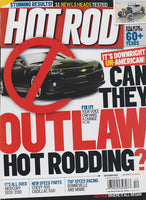 December 2010 Hot Rod Magazine
NM Condition – Magazine is complete with minor cover wear and no noticeable creasing.
This Issue includes: Roddin' at Random; From the Archives – Where it all began – vintage Bonneville photo; Brian Thomson's 1972 Chevelle SS; Gary Schmidt's famous 1933 Willys panel; The Ray Pyle Roadster; Mark Hayden's 1954 Nash; A look at how the Government is attempting to outlaw hot rodding; The history of the Mercury 1939-2010; The 62nd Bonneville Speed Week from a Newbie's Point of View; Land Speed Racing from Loring Air Force Base; Pedders 2010 Camaro Vs 2010 Saleen Mustang; Lightwieght 409 from World Products; Top end kit for a Cadillac 472; The Ultimate Chevy LS Cylinder Head Test; plus more great Hot Rod magazine editorial.
A great Hot Rod issue from the magazine that started it all.