---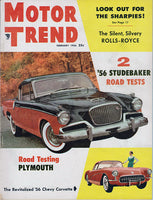 February 1956 Motor Trend Magazine
EX- Condition – Magazine is complete with some minor cover wear and creasing. The spine shows some subtle use wear and the pages are slightly yellowed mostly around the edges due to age and pages 11-18 have a small tear on the outside of the page, but it doesn't affect the magazine's readability.
This Issue includes: What to watch for when buying a new car from a shady dealer; 1956 Studebaker Golden Hawk Road Test; 1956 Studebaker President Road Test; Interesting Automotive Consumer Survey; A look at the new 1956 Corvette; 1956 Plymouth Belvedere Road Test; Historical perspective on Rolls-Royce; A look at the upcoming 1956 racing season; Driving Around with Walt Woron; plus more great Motor Trend magazine editorial.
An excellent vintage issue that will make a nice addition or upgrade to your collection.