---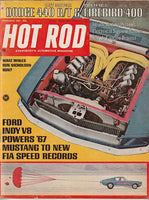 February 1967 Hot Rod Magazine
Magazines are complete and range from F to NM condition.
Grading is as follows:
NM – little to no cover wear or creasing with spine showing little to no use wear
EX+ - very subtle cover wear and very minor creasing with spine showing only subtle use wear.
EX -very subtle cover wear and creasing with spine showing very subtle wear
VG – some subtle cover wear and creasing with spine showing some minor use wear
Good – some noticeable cover wear and creasing with spine showing some average use wear.
Fair – noticeable cover wear and obvious creasing with spine showing above average use wear and possibly loos to the staples.
All magazines we sell include magazine pages in excellent, readable condition with most older magazines showing some level of yellowing mostly around the edges due to age.
This issue includes: West Coast Division of Autolite's 200 mph Mustang at Bonneville; Dodge Coronet 440 Wedge Road Test; In The Lions Den – Drag Racing from West Coast's most famous drag strip; Pontiac Firebird Test and Review; Swapping the Semi-Hemi into a 1955- 1957 Chevy; Petersen's 8th Annual Motorama; What Makes "Dyno" Don Nicholson Run; Hot Rod magazine's Project Camaro Part 1; Dave Specht's 1919 T-Roadster feature; Pete Robinson color dragster photo; Moritz & McClintoc's dragster feature; John Bradford's Ford SOHC Powered boat; Hodaka 90cc bike test; EMPI's bolt on Big Bore VW kit; Dune Buggie Drags; plus more great car features, tech articles, and editorial.
A great issue of Hot Rod magazine full of great vintage tech and features.