---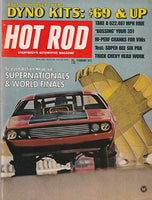 February 1971 Hot Rod Magazine
Magazines are complete and range from F to NM condition.
Grading is as follows:
NM – little to no cover wear or creasing with spine showing little to no use wear
EX+ - very subtle cover wear and very minor creasing with spine showing only subtle use wear.
EX -very subtle cover wear and creasing with spine showing very subtle wear
VG – some subtle cover wear and creasing with spine showing some minor use wear
Good – some noticeable cover wear and creasing with spine showing some average use wear.
Fair – noticeable cover wear and obvious creasing with spine showing above average use wear and possibly loose to the staples.
All magazines we sell include magazine pages in excellent, readable condition with most older magazines showing some level of yellowing mostly around the edges due to age.
This issue includes: Supernationals Coverage From Ontario Motor Speedway; Bolt-on power packages – Stage 1 – Stage 7;  Dodge Charger Hot Rod Road Test; Charlie Proite's Telstar Dodge funny car photo; Mike Robertson's Fuel Altered; Pisano & Matsubara Camaro Funny Car feature with crash sequence; Hopping up the Boss 351;  Don "The Duck" Colosimo's Top Fuel Dragster; Ed Smith's B/Altered Wheelie Color Photo; Gary Gabelich and the Blue Flame Land Speed Record Holder; Rick Dedmon's 1923 T; Yancey, Camp, and AEECO junior fueler; Ken Allison dune buggy;  History of the Ramchargers; Art Cambridge Yellow Submarine B/Altered; AHRA Drag Racing From Beeline Dragway Phoenix; VW building starts with the crankshaft; Behind the scenes at RHS; A look at slanted-plug Chevy heads;  plus more great editorial, technical articles and car features.
A great issue for the Hot Rod magazine enthusiast that will make a nice addition to your collection - especially the ones in top condition.