---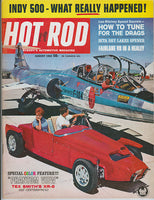 Hot Rod Magazine
August 1963
Magazines are complete and range from F to NM condition.
Grading is as follows:
NM – little to no cover wear or creasing with spine showing little to no use wear
EX+ - very subtle cover wear and very minor creasing with spine showing only subtle use wear.
EX -very subtle cover wear and creasing with spine showing very subtle wear
VG – some subtle cover wear and creasing with spine showing some minor use wear
Good – some noticeable cover wear and creasing with spine showing some average use wear.
Fair – noticeable cover wear and obvious creasing with spine showing above average use wear and possibly loose to the staples.
All magazines we sell include magazine pages in excellent, readable condition with most older magazines showing some level of yellowing mostly around the edges due to age.
This Issue Includes: 1963 Indy 500 coverage; Austin Healey with a V-8 punch; Prepping for the Bonneville Salt, NHRA Divisional Drags from Pomona; Shades of Muroc; Hugh Tucker's Wild Street Roadster drag feature; Dave Whitehead's 1929 Model A Hot Rod of the Year feature; Gene Logghe's dragster feature; Pat Klein's 1939 pickup feature; HRM's XR-6 Roadster feature; Glenn Lawson's Henry J gasser feature; Tune-Up Tips for Fords 427; "Stormy" Mangham's Chevy-powered Bonneville two wheeler feature; NHRA Regional Drags from Madras, Oregon; Wingfoot Express feature; plus more vintage photos, vintage articles, editorial, and features.
A Classic "must have" issue of Hot Rod, the magazine that started it all.