---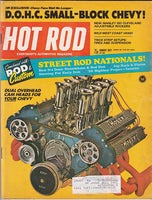 August 1971 Hot Rod Magazine
Magazines are complete and range from F to NM condition.
Grading is as follows:
NM – little to no cover wear or creasing with spine showing little to no use wear
EX+ - very subtle cover wear and very minor creasing with spine showing only subtle use wear.
EX -very subtle cover wear and creasing with spine showing very subtle wear
VG – some subtle cover wear and creasing with spine showing some minor use wear
Good – some noticeable cover wear and creasing with spine showing some average use wear.
Fair – noticeable cover wear and obvious creasing with spine showing above average use wear and possibly loose to the staples.
All magazines we sell include magazine pages in excellent, readable condition with most older magazines showing some level of yellowing mostly around the edges due to age.
This issue includes: a look at the DOHC Small-Block Chevy; Drag Slicks; 1971 Cutlass Hot Rod Road Test; Paul Blevens' C/MP Corvette; Lenco's Latest underdrive; Don Prudhomme famous F/C Hot Wheels Funny Car Fire in the Lights Photo; Drag Racing Suspensions; Al Unser Indy 500; Lamar Walden's A/Gas Vega; Chuck Tanko's AA/FD; Parnelli Jones and Bill Stroppe's Tube-Chassis Bronco; West Coast Vans pictorial; Fords Showoffs Concept Cars; Tom Prufer's 1929 Highboy; 1929 Highboy project Report No 13; Rod Rodeo at Peoria; Suzuki 185cc Bike Test; plus more great editorial, tech articles, and features.
Another great vintage issue of Hot Rod magazine that will make a nice addition to most any collection.