---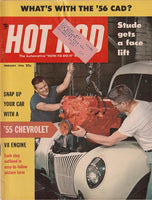 February 1956  Hot Rod Magazine
 

Magazines are complete and range from F to NM condition.
Grading is as follows:
NM – little to no cover wear or creasing with spine showing little to no use wear
EX+ - very subtle cover wear and very minor creasing with spine showing only subtle use wear.
EX -very subtle cover wear and creasing with spine showing very subtle wear
VG – some subtle cover wear and creasing with spine showing some minor use wear
Good – some noticeable cover wear and creasing with spine showing some average use wear.
Fair – noticeable cover wear and obvious creasing with spine showing above average use wear and possibly loos to the staples.
All magazines we sell include magazine pages in excellent, readable condition with most older magazines showing some level of yellowing mostly around the edges due to age.

This issue includes: A Look at the New 1956 Cadillac; Stock Car Racing by Ray Brock; Coverage of the Arizona State Championships Drag Race; Putting a new Chevy V-8 in a Classic Ford truck; 1940 Ford pickup feature from the Barris shop; Stylish Studes; Inserting Horizontal Bars in the Grille of a 1932 Ford; The Fastest Dragster - The Riley Special Driven By Calvin Rice feature; National Drag Finals coverage From Perryville, Arizona; Roddin' at Random; Building a Jalopy; Jerry Woodward's Thunder Rod feature; plus more great vintage photos, editorial, and features.
A great classic issue of Hot Rod - The magazine that started it all.