---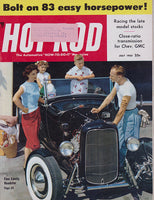 July 1955 Hot Rod Magazine
EX+ Condition - Magazine is complete with some very minor cover wear and creasing. The spine shows very subtle use wear, and the pages are lightly yellowed around the edges from age.
This Issue Includes: Bolt-on 83 easy horsepower; Close-ratio Cogs; Ed Krobs' Dragster; Bart Root's record-setting B Roadster; Intake port alignment; Jim Kida's 1952 Club Coupe Ford; Capping off the deuce grille shell water spout; Drag Racing from around the U.S.; Stroker McGurk cartoon; The Hot Rod Bop; plus more excellent editorial, technical articles, and features.
A great issue in amazing condition that will make a nice addition to your collection.