---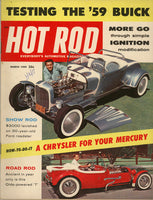 Hot Rod Magazine
March 1959
EX+ Condition - Magazine is complete with very minor cover wear and creasing. The spine shows only subtle use wear and the pages are slightly yellowed mostly around the edges from age.
This issue includes: 1969 Buick LeSabre Road Test; Walt Flynn's Pontiac Indy Car; Drag Strips as A Safe Place to Compete; Pearson Olds Special Dragster; John Rasmussen's Model A Roadster feature; Henry Katzenmaler's 1951 Ford Custom feature; John Good's custom 1932 Ford station wagon feature; Duane Aspengren's 1949 Hudson feature; Miller-Buck & Bohls Olds-Powered 1929 Model A Roadster Drag Car; Jim Butler's totally custom and automated Studebaker; The Oilers Club C/Altered; The Pipers and Piper Puffs car club; plus more great features, vintage photos, and editorial.
A great issue for the nostalgia Hot Rod fanatic. This will make a nice addition to most any collection.