---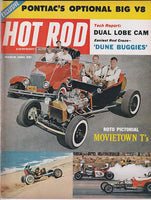 March 1961  Hot Rod Magazine
Magazines are complete and range from F to NM condition.
Grading is as follows:
NM – little to no cover wear or creasing with spine showing little to no use wear
EX+ - very subtle cover wear and very minor creasing with spine showing only subtle use wear.
EX -very subtle cover wear and creasing with spine showing very subtle wear
VG – some subtle cover wear and creasing with spine showing some minor use wear
Good – some noticeable cover wear and creasing with spine showing some average use wear.
Fair – noticeable cover wear and obvious creasing with spine showing above average use wear and possibly loos to the staples.
All magazines we sell include magazine pages in excellent, readable condition with most older magazines showing some level of yellowing mostly around the edges due to age.
This issue includes: Engine options for the Pontiac; NHRA from Petersburg, Virginia; Brian Chuchaua's 283 Chevy-Powered Bonneville Corvette feature; Hot Rod Dune Buggys; Harold Carter's 1934 B/A Ford; Hamer Phillips' 1930 Ford Pickup feature; Faniciers Car Club Dragster feature; Burk and Pete Burkholder's Drag Coupe Chrysler Conversion for Bonneville; Marty Holmann's Wild 1915 T Bucket; Ed Fitzwilliam's Dual-Engine Dragster; 128 MPH Record Drag Boat; Coverage of the Nassau Grand Prix of Karting; The Ala-Kart Hot Rod Kart Test; Ford 375 hp engine goes 350 laps at Daytona at 153 mph; plus much more great editorial, features, and technical articles.
A great issue of Hot Rod magazine that will make a nice addition to most any collection.