---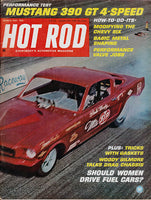 March 1967 Hot Rod Magazine
Magazines are complete and range from F to NM condition.
Grading is as follows:
NM – little to no cover wear or creasing with spine showing little to no use wear
EX+ - very subtle cover wear and very minor creasing with spine showing only subtle use wear.
EX -very subtle cover wear and creasing with spine showing very subtle wear
VG – some subtle cover wear and creasing with spine showing some minor use wear
Good – some noticeable cover wear and creasing with spine showing some average use wear.
Fair – noticeable cover wear and obvious creasing with spine showing above average use wear and possibly loos to the staples.
All magazines we sell include magazine pages in excellent, readable condition with most older magazines showing some level of yellowing mostly around the edges due to age.
This issue includes: Female Driver Profile Including Shirley Shahan, Paula Murphy, Mary Ann Foss, and more; Hemberis & Mitchell AA/G Willys; Ford Mustang Fastback Hot Rod Road Test; Joe Martinez's 1932 Ford Pickup; Gary and Julie Henderson's 1933 Ford Sedan; Drag Racing from Oahu; Bivens & Fisher AA/D Color Photo; Ben Petty's V-8-powered Sprite; Ray Farhner's "Boothill Express" Show Car; Woody Gilmore Carves a Chassis; Great, Jerry Ruth Profile Article; Bill Hodges' 1926 T coupe; Exploring an Altered Part II; plus more excellent editorial, tech articles, and features.
A great issue of Hot Rod magazine especially for the drag race fans.