---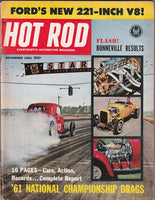 November 1961 Hot Rod Magazine
Magazines are complete and range from F to NM condition.
Grading is as follows:
NM – little to no cover wear or creasing with spine showing little to no use wear
EX+ - very subtle cover wear and very minor creasing with spine showing only subtle use wear.
EX -very subtle cover wear and creasing with spine showing very subtle wear
VG – some subtle cover wear and creasing with spine showing some minor use wear
Good – some noticeable cover wear and creasing with spine showing some average use wear.
Fair – noticeable cover wear and obvious creasing with spine showing above average use wear and possibly loos to the staples.
All magazines we sell include magazine pages in excellent, readable condition with most older magazines showing some level of yellowing mostly around the edges due to age.
This issue includes: Ford's New 221ci V-8; 1961 Nationals Championship Drags coverage from Indianapolis Raceway Park; Larry and Walt Banker's Two 1932 Fords feature; What to do about driveshaft problems; Patricia Schrader and Stan Bottom's 1932 Ford Roadster feature; Walter Ross' C/Altered Motorcycle; Roger Melenchuk's 'T' Rod feature; Martin Garcia's 1932 Three-Window coupe feature; Great 9-page Dodge ad; Rea, Sullivan, Slusser and Helmick Fiat Coupe; Ben Delphia's 1936 Ford Tudor feature; Ken Blackwell's 1929 Roadster feature; Bob Warwick's X Dragster feature; Bob Snyder's C/Gas Sedan; 1961 Bonneville results; 1961 GKCA-IKF National Championships from Ohio; Trans Jammers Car Club from Parlier, California; plus more great features, technical articles, and editorial.
Just another great issue from the magazine that started it all.