---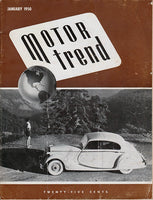 January 1950 Motor Trend Magazine
VG - Condition – Magazine is complete with some noticeable cover wear and creasing. The spine shows some average use wear and the pages are in great shape and are slightly yellowed mostly around the edges due to age.
This Issue includes: Motor Trials of the 1950 Ford; Big Car racing from Sacramento and Del Mar; Sterling Edwards' Custom Sports car; The Duesenberg Series J; Are Foreign Cars the Bunk? Vincent Gardner's custom 1947 Studebaker; Trends in Design; Trend of the future with metal and wood by Colonel Alex de Sakhnoffsky; Lincoln vs. Oldsmobile challenge; plus more great vintage Motor Trend magazine editorial.
Not in the best condition but an excellent very early issue that will make a nice addition to your collection.