---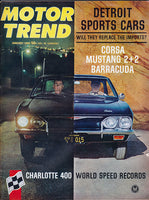 January 1965 Motor Trend Magazine
EX+ Condition – Magazine is complete with very minor cover wear and creasing. The spine shows very subtle use wear and the pages are just slightly yellowed mostly around the edges due to age.
This Issue includes: Detroit Sports Cars – Will They Replace the Imports?; Fastback Forecast; 1965 Corvair Corsa Road Test; 1965 Mustang 2+2 Road Test; 1965 Barracuda Road Test; Los Angeles Times Grand Prix from Riverside Raceway; 10th Annual Motor Trend Car of the Year Award; Penguin leak-proof minicar; 1965 NASCAR predictions and builder and driver profile; The Story of Gasoline – Part III; Detroit's Smog-Shrouded Mystery; Weekend Mechanic – Do your own tune-up; Charlotte National 400; Bonneville Speed Records set five times in 26 days; History of the Cadillac V-16; plus more great Motor Trend magazine editorial.
An excellent issue that will make a nice addition to your collection.