---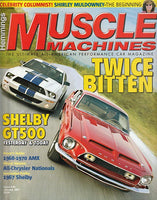 January 2007 Hemmings Muscle Machines Magazine
EX+ Condition: Magazine is complete with very minor cover wear and creasing. The spine shows very subtle use wear and the pages are in excellent condition.
This issue includes: Shelby: Old vs. New; 1993 Cadillac Allante feature; 2006 All-Chrysler Nationals; The lost art of maintaining a Mopar Distributor; 1963 Chrysler 300J feature; Back in My Day by Shirley Muldowney; 1968-'70 AMC AMX Buyer's Guide; Keith Black profile; 1967 Shelby G.T. 350 feature; plus more excellent editorial and features.
This will make a nice addition to your muscle car magazine collection.